Becoming by Michelle Obama
Published in 2018 by Crown
Genre: Memoir/biography
Format: Own, Audiobook: 19 hours, 30 minutes
Michelle Obama read her own book and it was lovely. I loved listening to her tell her own story. The grace and dignity she showed despite the vitriol she received as the first African American first lady is awe-inspiring. I loved listening to her anecdotes in the White House and how hard it was for her to have Barack in politics. She didn't want it and didn't ask for it but she knew he could make things happen. I miss them both. They're two human beings who will continue to make a difference wherever they go.
Miss Peregrine's Home For Peculiar Children by Ransom Riggs
Published in 2011 by Quirk Books
Genre: Young adult, Urban fantasy
Format: Own, Hardcover 352 pages
This is a re-read for me but I never reviewed it on my blog...I really enjoyed this both times. Riggs takes a bunch of old, weird photographs and uses them to make a story. It's a pretty bizarre world he creates but it works. Peculiar children are like mutants but aren't able to blend as well into society. So their protectors or ymbrynnes keep them safe in time loops.
Jacob's grandfather has told him stories of his time as a boy in an orphanage during WWII. He was a refugee fleeing Nazi-occupied Poland. But more than Nazi monsters were chasing him; real life monsters called hollowghasts were also chasing him.
After the grisly death of his grandfather, Jacob must travel to the island of his grandfather's youth and find out why he died and who are the children in his pictures? What are the monsters he keeps seeing? He learns who he is and who is grandfather was. He gains new friends and they must go on an adventure to save the peculiars from a monstrous threat. It's a fun story.
Hollow City by Ransom Riggs
Published in 2014 by Quirk Books
Genre: Young adult, Urban fantasy
Format: Own, Hardcover, 400 pages
This is the second book in the "Miss Peregrine's Home for Peculiar Children" trilogy. The second book was not as great as the first one. It's that second book hump where you have to keep the story going but you're not quite sure where to end it and begin the last part of the story. The pictures didn't quite fit this time around. It seemed Riggs was stretching things a bit.
Library of Souls by Ransom Riggs
Published in 2015 by Quirk Books
Genre: Young adult, Urban fantasy
Format: Own, Hardcover, 464 pages
I did like this one better than two but it was still weaker than one. I enjoyed the ending of the story. All ends well. But there are a lot of questions about peculiars and the world they live in which is the world we live in...Plot holes and deus ex machinas abound. But still a fun ride. Not a fantastic series but a creative one.
Hello World: Being Human in the Age of Algorithms by Hannah Fry
Published in 2018 by W.W. Norton Company
Genre: Non-fiction, Science and technology
Format: Library, Hardcover, 272 pages
This was a fun one. Fry tackles algorithms and technology in our daily lives and how we as a society have been relying too much on them. She talks about privacy, self-driving cars, medicine, and crime and how we have relied too much on algorithms to keep our privacy, keep us safe, and determine our health, and how to prevent crime. She gives us examples on how it's gone wrong. But her point is let's use these algorithms and technologies in conjunction with humans. Let it help us not take over. She gives examples how working with technology can improve our lives and help us get things done. It was scary and hopeful. I highly recommend it!
The Truth as Told by Mason Buttle by Leslie Connor
Published in 2018 by Katherine Tegen Books
Genre: Juvenile fiction
Awards: Schneider Family Book Award, National Book Award Finalist
Format: Library, Hardcover, 336 pages
I read this one aloud with G. We both loved Mason. He has a hard time reading because the letters get mixed up and he sees colors depending on the moods of those around him. He has to dictate what he wants to say to a computer because can't write really well either. His best friend died a year ago and the local detective wants to know more about what happened. He's told him what he knows but events get mixed up and it's hard to concentrate when the detective keeps interrupting him and doesn't want to know about the colors he sees...Soon Mason meets Calvin; he's tiny and smart and they get along great. But they're bullied by their neighbor Matt and his friend Lance. Something seems off about him and Lance. After Mason dictates his story about Benny his friend, the detective is finally ready to see the truth.
It's an amazing story told from Mason's point of view. We see a bit what it might be like to experience synesthesia and other disabilities. It teaches about empathy and compassion and learning to listen to others even if we don't quite understand them at first. It's not only character-driven but plot-driven as well.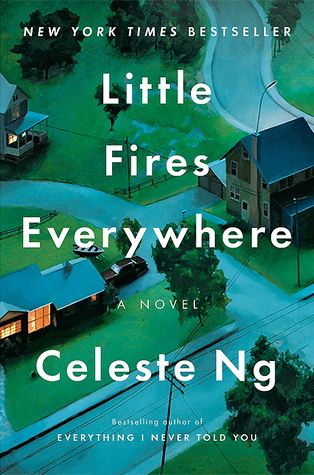 Little Lies Everywhere by Celeste Ng
Published in 2017 by Penguin Press
Genre: Literary fiction
Format: Libary, Audiobook, 11 hours, 27 minutes
I had a really hard time with this book. I did not like it. I wanted to enjoy fleshing out all the characters and seeing them in all their humanity. But not one character did I feel like was a fleshed out. They were all cookie-cutter. I knew from the beginning who I was supposed to hate and who I was supposed to adore. I felt manipulated. The plot was also very convoluted. It felt like a bunch of unlikely coincidences in order to tell an author's moralizing tale. Not my cup of tea.