Astrophysics for Young People in a Hurry by Neil DeGrasse Tyson
Published in 2019 by Norton Young Readers
Genre: Juvenile nonfiction, science, astronomy
Format: hardcover, 192 pages, own
Read: in February aloud with G
G and I had a fun time reading this together. I read Tyson's Astrophysics for People in a Hurry a couple of years ago and loved it so I was excited when his young adult version was released! His co-author Gregory Mone helped him speak to kids on their level and it really showed. The explanations were fun and simple and I learned more about Dark Matter than I ever have before. This is one we'll be looking at again and again.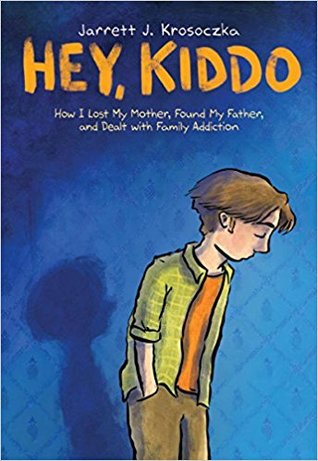 Hey, Kiddo: How I Lost My Mother, Found My Father, and Dealt With Family Addiction by Jarrett J. Krosoczka
Published in 2018 by Graphix
Genre: Graphic novel, young adult, nonfiction
Format: Paperback, library, 320 pages
Read: February 23-26, 2019
Awards/Nominations: National Book Awards Finalist for Young People's Literature (2018), YALSA Award Nominee for Excellence in Nonfiction (2019)
This memoir packs a punch. We follow Jarrett's journey from childhood to adulthood and see how he deals with being raised by his grandparents, not knowing who his father is until much later, and watching his mom come in and out of his life due to her drug addiction. The subject matter is dark but hopeful and very human. It's one you'd want to read with your younger teenager; there are plenty of ideas to be discussed from doing so.
Drawing and art became his passion and his way of dealing with all of the crap. He shares real drawings from when he was a kid as well as some art from his mother. It's a poignant story and I'm happy he found the strength to share it with us.
The Cooking Gene: A Journey through African-American Culinary History in the Old South by Michael W. Twitty
Published in 2018 by Tantor Audio
Genre: Memoir/biography, nonfiction, food and drink, history, US history
Format: Audible audio, own, 15 hours, 20 minutes
Read: January 16-February 22, 2019
Awards/Nominations: Kirkus Prize Nominee for Nonfiction
I listened to this one on Audible. I loved Michael W. Twitty's voice telling his own journey and history. This was a journey for me. He throws so much history of food and the South and his own history, along with the history of slavery right on into the mix. It's a haunting story and history. I loved it. I actually want to buy a physical copy so I can go back through it again soon. There are so many tidbits I missed. His story and the way he brings it all together is mesmerizing. You won't look at history or anything quite the same again.